Moulinex Soup & Co blender giveaway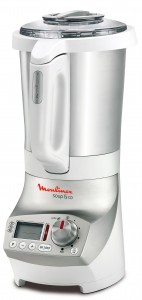 With winter behind us, we begin to look at healthier eating plans as well as fun, light and easy ideas to help us get back into shape for summer.
Summer soups are an equally healthy alternative to salads and range in variety of styles, from a lovely light and chunky Spanish inspired gazpacho soup to a chilled smooth cucumber, mint and parsley soup. They can be served as a refreshing starter or a quick main that can be added to your menu when entertaining friends.
The Moulinex Soup and Co is a handy appliance that can help you create soups and smoothies alike. It can blend, puree, crush and cook just about any delicious mix of ingredients for a convenient and healthy dish which can help increase your daily intake of fruits and vegetables at the same time.
Another way to increase your fibre and fruit intake is to convert your daily breakfast of oats or cereal into a great tasting on-the-go breakfast smoothie. All you need to do is throw together fresh or frozen fruit, some fat free yoghurt, a twist of your favourite citrus fruit juice and some oat bran or muesli and the Soup and Co will do the rest.
CONTACT: 
We are giving away one Soup & Co valued at R1999.
To enter the giveaway:
Tell us about your most unusual smoothie or soup recipe?
Closing date: 25 November 2012