Showstopping botanical prints for every corner of your home.
Striking accent walls
"Décor centred around nature and botanicals is a huge trend right now. Bold floral patterns on simple items like tablecloths and table runners are a great way to bring the beauty of nature into your home in a subtle and classic way.
"Florals and botanical patterns add a touch of softness to modern spaces and a beautiful way to do this is to use statement pieces like scatter cushions or botanical-inspired wallpaper, to add a natural flow to a contemporary space.
"Create instant accent walls or rejuvenate any smooth surface with RoomMates' Peel & Stick Wallpapers. The range provides you with plenty of colour and design options." – Annie Hendricks, Yuppiechef marketing assistant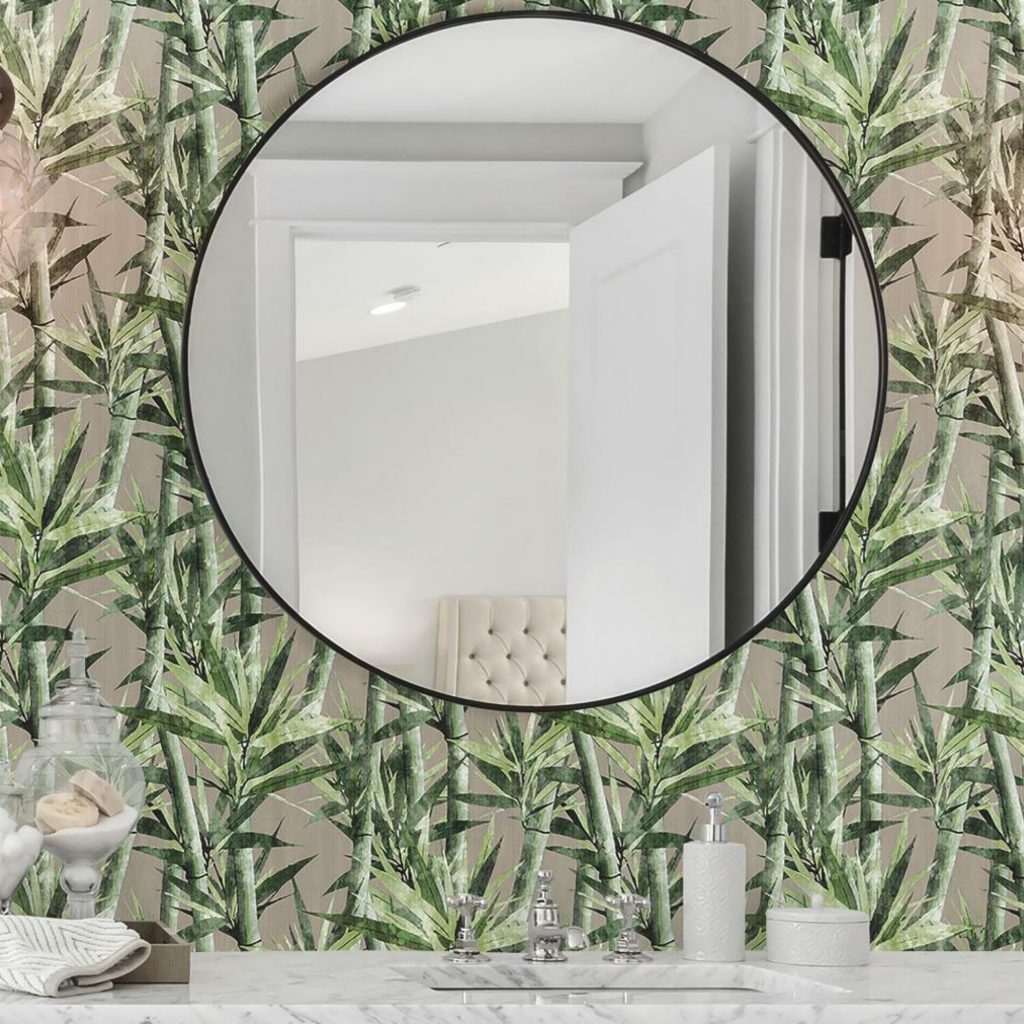 Glorious green
"Botanicals have become such a staple in wallcoverings but knowing which one to choose can sometimes be daunting. If you are looking to make a statement with your wallpaper and are not afraid to use colour, then something like Cara Saven Wall Design's She's A Botanist design would be perfect.
"The varied greens offer a freshness that is sure to lift any space and mood and the vintage feel of it adds a contemporary touch." – Cara Saven, owner of Cara Saven Wall Design
Take a soft approach
"Botanicals also come in more subdued tones and designs and one sometimes forgets that traditional Chinoiserie designs are botanicals. The Chinoiserie-inspired design of Climbing High has a soft femininity to it. The botanical elements speak to a bygone time of castles and palaces and opulence." – Cara Saven, owner of Cara Saven Wall Design
Super Scandi
"Notably Nordic's motifs are reminiscent of the early '50s style of design house Marimekko. Much like today, Scandinavian design was a major interior inspiration in the 1950s. Marimekko, in particular, brightened up homes with its iconic large-scale overlapping abstract patterns in a mix of vibrant and muted colours, combining the natural beauty of the Nordic landscape with a homage to Japanese art.
"Hertex's Notably Nordic collection continues this timeless trend by playing with retro elements in a relevant and contemporary way." – Katrin Herrmann-van Dyk, Hertex creative director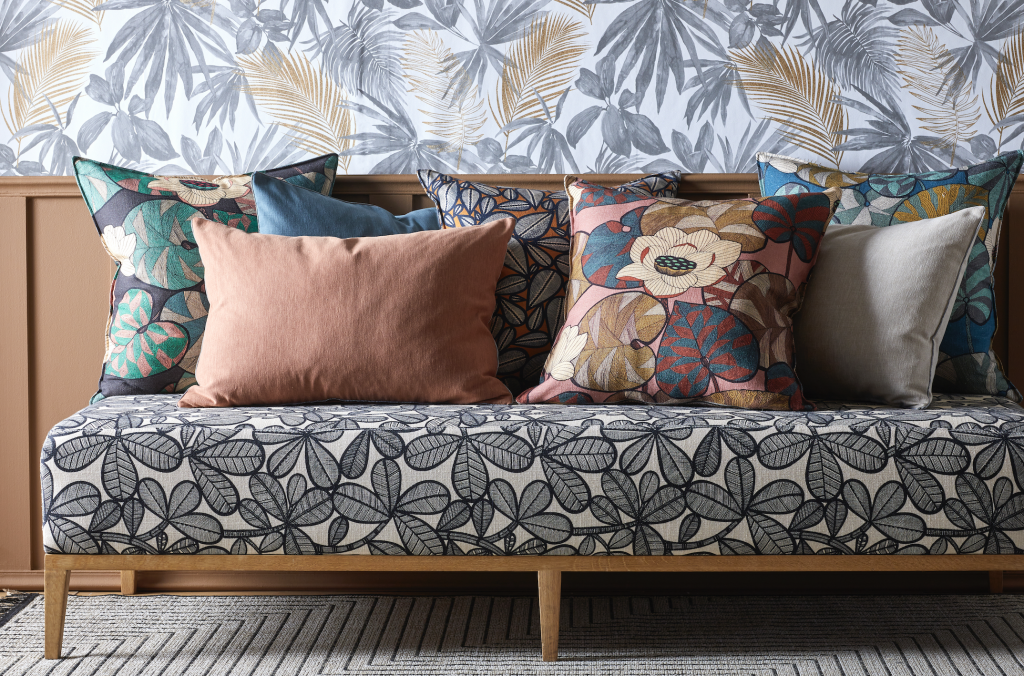 Go local
"Hertex has commissioned two local artists to put together African Illustrators Fabric – an exclusive collection that illustrates the rich South African flora and fauna. We have chosen to print them on our double-width European viscose linen base cloth which shows these exclusive designs to their best advantage." – Katrin Herrmann-van Dyk, Hertex creative director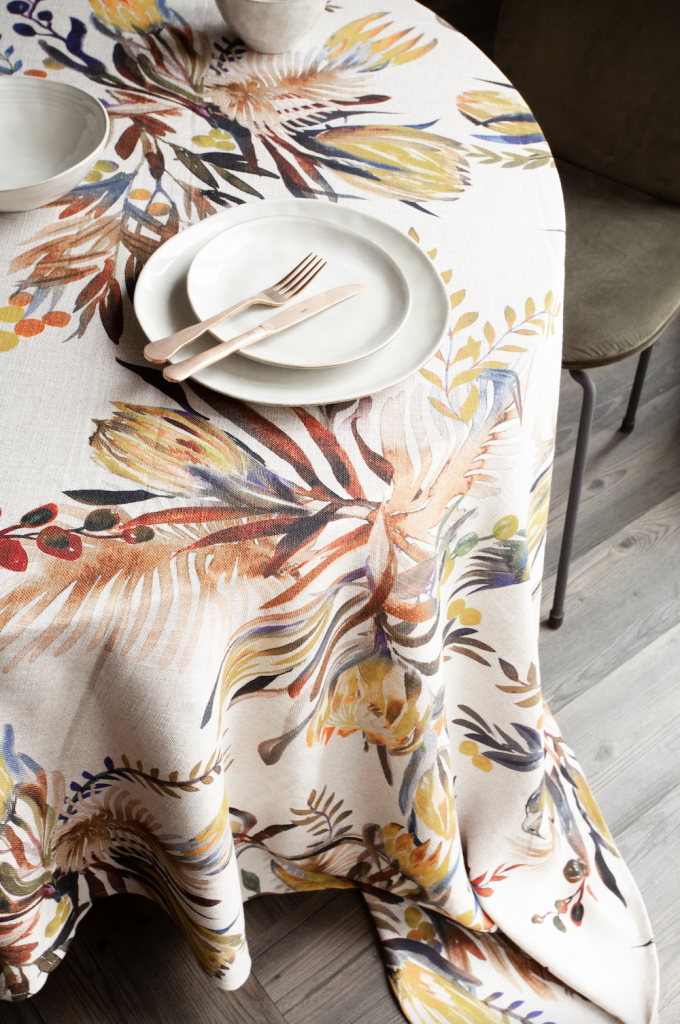 Be bold
"For Fabric Bank, it's all about being bold with your botanical prints and designs as wallpaper and textile applications. For wallpaper, we suggest selecting a feature wall in your chosen room to create a bright and colourful focal point.
"If you are really brave and want to make a statement, you can do the full wall wrap, resulting in a 360° view of botanical prints. (Just make sure the scale of your print is correct when opting for this. Too small and it becomes difficult to look at, too big you may lose details of the print.)
"For textiles, we love adding a bold botanical print as an upholstery to revitalise an old sofa or arm chair. A great way to incorporate the trend is by adding scatter cushions in various prints and sizes to get the look and feel without any 'fixed' commitments." – Shara Mordt, owner of Fabric Bank
Be inspired
"With the craziness that we are currently facing, we are more aware of our habitats and we need to create an oasis away from it all. Let your mind go and see where your inner designer takes you. We suggest you find a botanical print that evokes nostalgia – whether you remember a beautiful banana tree in the Seychelles or a pampas grass bouquet at your best friend's wedding. Look for something that inspires you, that grabbed your attention from the moment you saw it, and design your space around art and it will all fall in place naturally." – Dewet De Villiers, head of marketing and content at KNUS