The creative vision of in-house architect, Giuliana Barandiaran, Neolith® HQ Showroom ultimately succeeds in bringing Neolith® 's extensive collection of surfaces to life in a way never before seen.
A 360° tour through the material's myriad interior and exterior applications, this exclusive and comprehensive display sees Neolith® specified across every surface, from floors, walls and ceilings to kitchen islands, sculptural features and vanity tops.
The whole space possesses a unique visual sophistication; a panorama of the highest quality materials and products combined to create a luxurious set of rooms full of sumptuous original details.
Furniture, fixtures and fittings provided by a handful of world-famous interior brands including: B&B Italia, Doca, Jacuzzi, Flos, Louis Poulsen and Pitt Cooking, further enhance the visual appeal of the showroom. Aside from providing essential context to each area theme, the carefully curated use of these assets throughout creates a cool and contemporary style with a welcoming and homely atmosphere.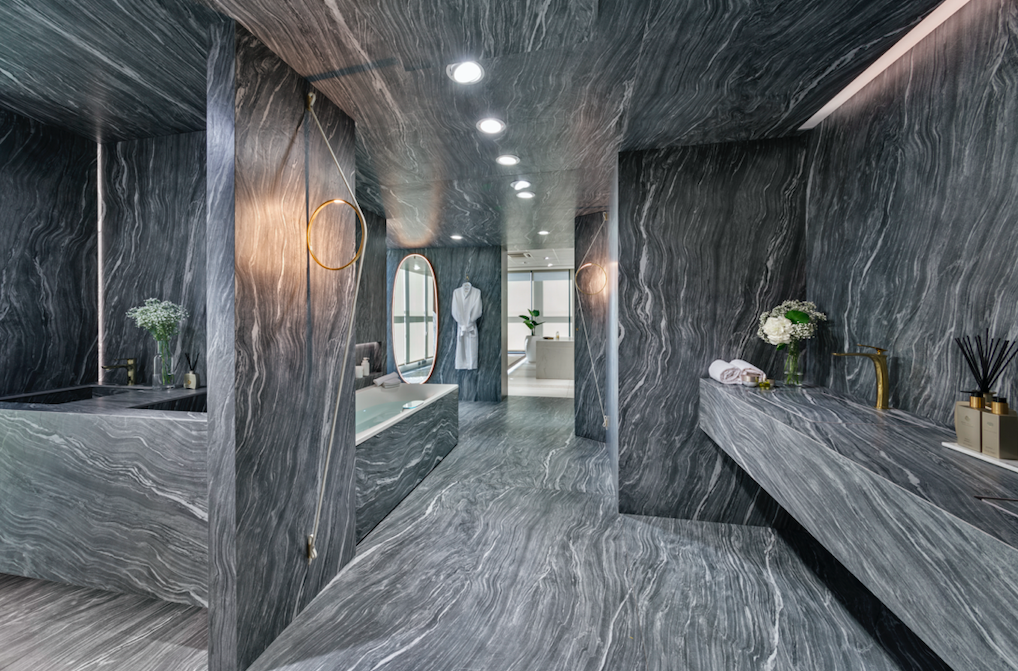 Raising the bar
As visitors enter the showroom, they are greeted with a sophisticated bar area where the main feature is a striking, two-tone monolithic island in luxurious Nero Marquina and urban New York – New York, evoking the atmosphere of a fashionable modern cocktail lounge. The piece was designed in collaboration with Interior Designer Virginia Albuja.
The theme of contrasts carries through to the area's cabinetry, creating a space which makes a lasting first impression, showcasing how to maximise the surface's potential for sophisticated interior decoration.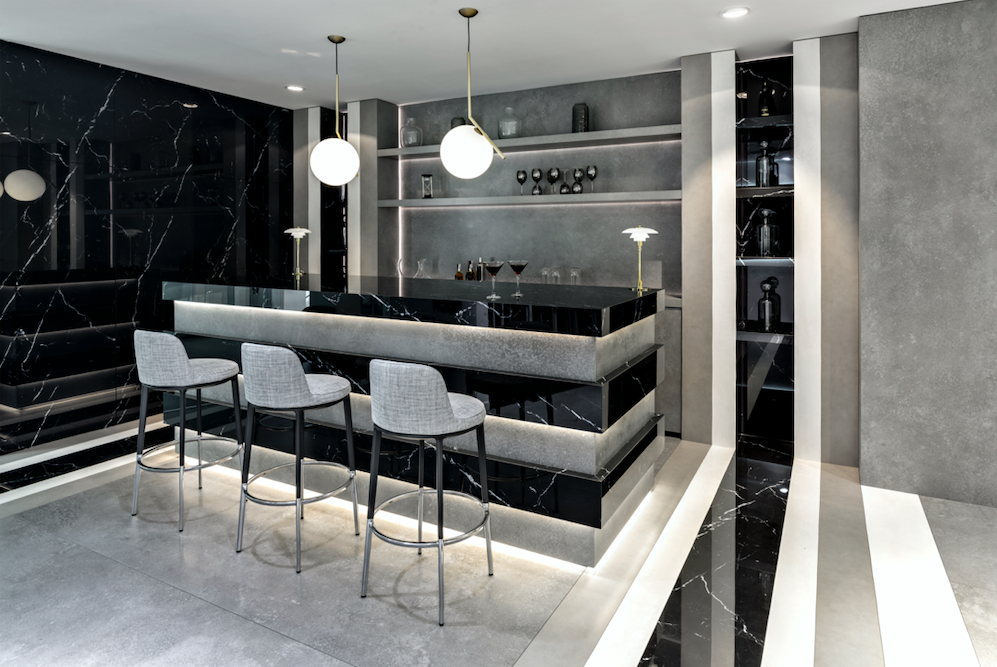 Master chef
Designed to create a visual dialogue with the neighbouring bar, the demonstration kitchen, equipped with a fully-integrated PITT Cooking range, is holistically specified in New York – New York from hood to hotplate. It's a modish, minimalist space which complements culinary activity and never detracts or overshadows it.
Flanked with elegant cabinetry DOCA, specified in black Nordic wood and inlaid with one of Neolith® 's latest patterns, Amazonico, the space seamlessly achieves style and panache. Further enhanced with hidden LED lighting and carefully chosen objet d'art, the kitchen perfectly encapsulates Neolith's unrivalled ability to balance form and function.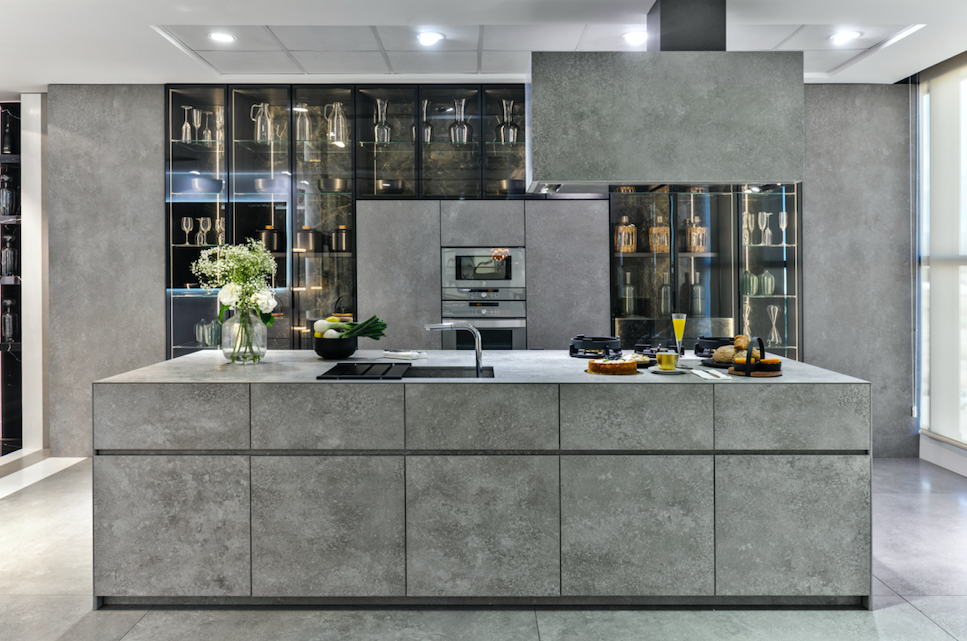 Lathering up…
The bathroom area offers a fresh perspective on the surface's capabilities. A glamorous and enrapturing installation, it captures Neolith® 's 360 approach to design.
Fully clad in exotic Mar del Plata and complemented with dazzling gold fixtures and fittings, the area is composed of a central vanity incorporating standard bathroom items. Camouflaged cabinetry and retractable doors also create the desirable illusion of more space than actually available.
A particular, palatial flourish is a visually captivating hydro massage bathtub provided by Jacuzzi, the outside of which is completely covered in Mar del Plata.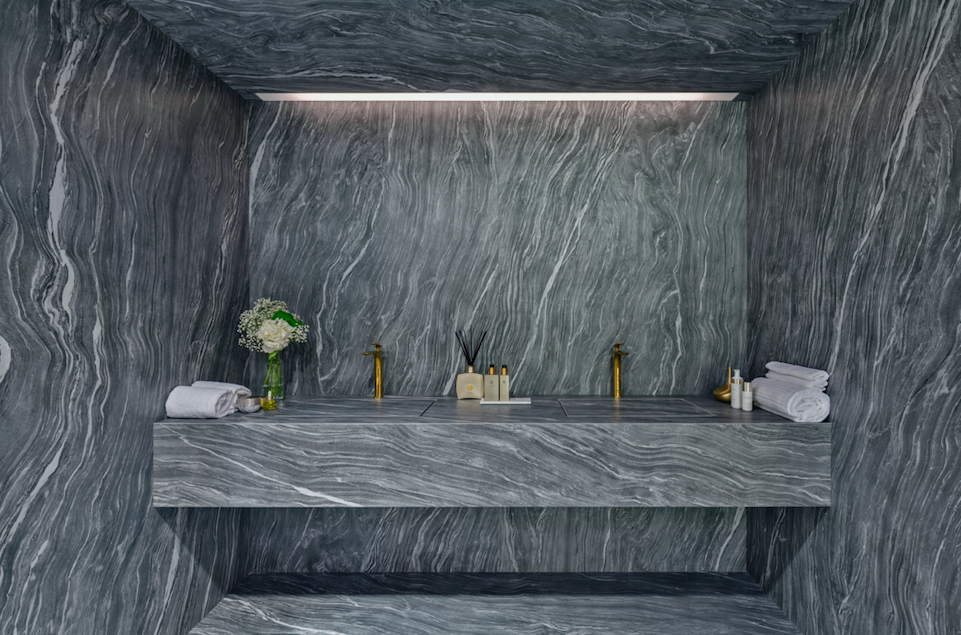 Face value
Bringing the outside in, a dedicated BBQ area has been raised on a platform to emphasise the ingenious design of the Neolith® surfaces used for this zone.

Fabricated into solid, octagonal structures, with a barbecue and spacious worktop incorporated, patinated Sofía Cuprum, inspired by treated industrial steel, is contrasted with pops of Arctic White Nanotech. It delivers an avant-garde, appealing and urbane look.
Further demonstrating how Neolith® can specified to achieve a seamless look, award-winning La Boheme is used for the floor. This choice simultaneously showcases the ability to create invisible joins and visual continuity, whilst also referencing the material's natural composition and eco-friendly philosophy.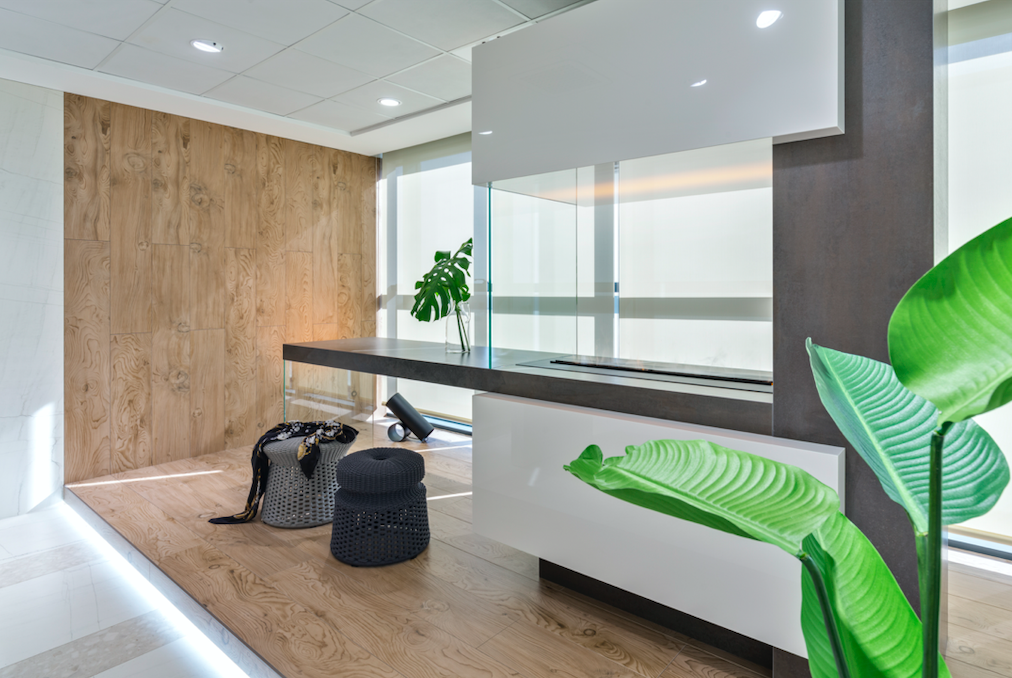 An innovative and sustainable package
The Neolith® HQ Showroom is one of a kind. It will allow customers and clients to see the full range of the brand's patterns, finishes, formats and thicknesses in one location and surprise them with the sheer amount of applications on display.
Visitors will also have an opportunity to experiencing the brand's unrivalled, personalised customer service, able to discuss their complex technical details and specifications with in-house experts.